Whole House
Design/Build
South Salem, NY
HIGHLIGHTS:
Hydro Air heat supplementation
Bathrooms
Post & Beam Sunroom
Patio and Stonework
Interior trim
Front Entry
All floors stripped
The homeowners bought the house on a desirable cul-de-sac. The property included an in-ground pool plus a large lower field originally part of an orchard. The building was set well back from the road on the high ground, a quiet retreat from the bustle of life. The house definitely had potential – but needed "some work".
The 3,000+ square foot sheetrock construction was relatively easy to remodel. The homeowners were very open minded to any ideas I might have about how to solve "the problems".
The building was open and spacious, on multiple levels with one large and one smaller greenhouse-style additions. Most of the house was either on slab or inaccessible crawl space. It was heated by electric baseboard and partially air-conditioned and the clients were concerned about energy bills.
Walking into this house, I saw immediately that Linda had a wonderful eclectic sense of design. The items she collected from the family's travels were high quality, colorful, often spiritually powerful. These gave me a sense of where I could go with the design: color, detail, movement, and powerful simplicity.
---
Sky's the Limit!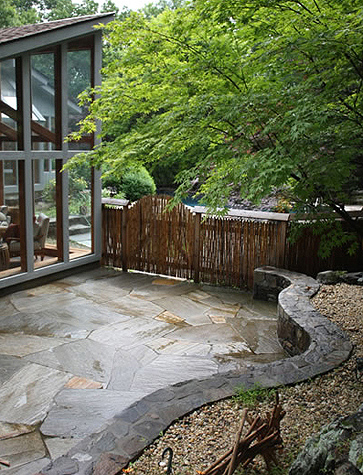 I put together an initial list and pricing which included some big stuff:
Complimentary Hydro air heat retaining the base electric system
Removal of a very poorly constructed aforementioned greenhouses to be replaced with an extension to a post and beam sunroom. This would be heated by a radiant floor system off the new boiler.
New bathrooms
Exterior patio and stonework
Removal of all interior doors and trim, replacing them with knotty Alder Shaker-style flat panel doors and red oak beaded casing and baseboard throughout – all in a stained and varnished satin finish. Normally mixing woods like this is too dynamic. We usually try to calm the spirit of a house with well-resolved, consistent detail. In this case, however, strong design statements complimented the owner's taste and personality.
Creating a distinctive front entry corrected the home's first awkward impression
We built a new walkway to the front door from the parking area with post lighting and wall sconces to lead the way in. We chose hand-forged lever hardware in a deep bronze for the doors. The entry door was replaced by a large 42" wide by 7' tall oak Craftsman unit with 20" sidelights and 6" exterior casing and solid oak sill.
It is difficult to detail even a small portion of the work that goes into a full house renovation lasting more than one year. Just the cleanup and materials management could be a thousand man-hours during that time period.