Porch Conversion
Boulder, CO
HIGHLIGHTS:
New Breakfast Room
Entertainment Bar
Marvin Windows
White Oak Flooring
Accent Lighting
Bridge to Deck
Custom Woodworking & Cabinetry
In a desirable Boulder neighborhood – tucked in at the base of the Front Range – we transformed a porch into a new breakfast room with an entertainment bar.
Located at the rear of the house, originally this porch had been open on two sides with a deck overhead. My intent from the start was to maintain the "open" porch feeling and to seamlessly integrate the new room into the long and narrow kitchen. Blending the old and the new is always a satisfying challenge – matching floor and window levels, textures and colors.
We built a new exterior wall then reframed the opening of the former sliding glass door to link to the kitchen; then we leveled and insulated the stone floor, continuing the quarter-sawn white oak of the main living areas.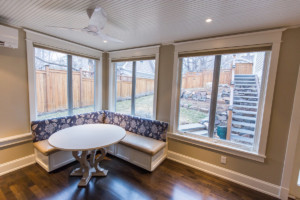 The windows are Marvin French Casement* windows that operate without a center frame allowing the new space to stay connected to the landscape without obstructing the view. These units are unique in the window design world. Typical of Marvin products, they are clean, elegant, and effortlessly functional. I chose a white aluminum cladding to complement the home's existing exterior colors.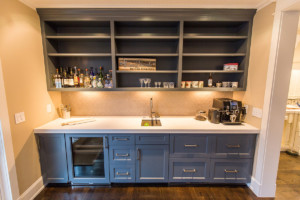 The custom-built wall-to-wall wet bar and shelving create an entertainment center with four refrigerated drawers, an under counter icemaker, and a dishwasher.
The lighting is discrete with 3" low voltage halogen in the ceiling and units under the lower shelving to highlight the counter, sink and splash – all dimmable.
A note about heating and cooling the new room: It was not possible to extend the existing ductwork into the breakfast room without extensive demolition and cost. I chose a Mitsubishi split unit, wall-mounted high in a corner to augment heating and cooling. The unit is ultra quiet and programmable. Coupled with two elegant high-tech Big Ass Fans, we have the total success package: contemporary, functional, and fun!
---
A Bridge!
Another unique aspect of this remodel was to create an alternate access to the upper deck from the new breakfast/entertainment room; previously this deck had only been accessible through the Master Bedroom. My playful solution was direct the traffic from the breakfast room up the existing exterior back steps, through the garage, over a new bridge from the garage to the deck (which were nearly on the same level).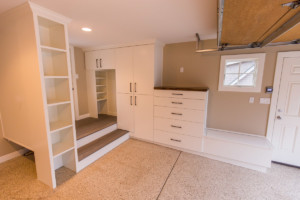 So … the garage was completed refinished and updated. These doors lead from the interior of the garage to the exterior staircase, across the bridge, to a stargazer's deck. So now the "party" can move from the kitchen/converted porch to the upper deck with ease!
Due to winter conditions, we don't have exterior photos of the bridge/deck as yet; but you can see from these garage photos, the fine quality workmanship of the custom built-ins throughout this project.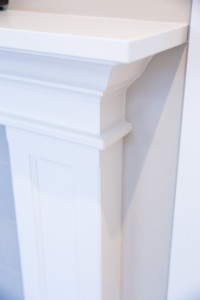 Architectural Design by Nicholas Borrell of The Healing Home, Lafayette, CO
General Construction and Custom Cabinetry by Wetzel Brothers Carpentry of Erie, CO Photography by Jesse R. Borrell