Design & Project
Management
Louisville, CO
HIGHLIGHTS:
Researched and selected all finish details
Hardware
Cabinetry
Tile/grout
Lighting
Colors
My first project in Boulder County came at the near-completion stage of a new house in Louisville. The hard work of structural engineering, planning and zoning, excavation and foundation, framing and sheathing were complete. The client needed fresh energy and decisiveness to make the last push – the decisions that "make or break" any project.
Addressing the long list of final details required by the builder, the homeowner and I researched and shopped for the elements that make a house truly great: the hardware, cabinetry, tile, lighting – especially lighting, and I guided their installation. The net result is unique and powerful, and comforting at the same time. When you walk in the front door, the high value of construction – from the windowsill reveals, to the hardware finishes, to the kitchen backsplash – creates a feeling of solidness and balance.
---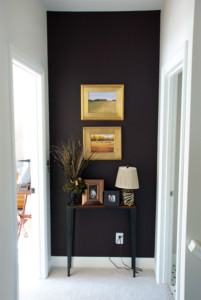 Color
Color is a very important, critical component of every project. Color establishes and grounds the personal in architecture. No two clients' color preferences are alike.
While the homeowner's personality is strongly traditional, her aura has lots of colorful energy. We travelled together around the Louisville area, going as far afield as Boulder's Mapleton Hill to find what fit.
Earlier in the project as she finalized the kitchen plan, a deep brown-grey cabinet door color emerged which eventually became the exterior trim color offsetting a warm white; not quite traditional but well in keeping with her playful nature. It suited the neighborhood ethos as well.
I believe the exterior of a building should signal what is happening inside, not hide it. Many of the interior colors came from the inspiration of that cabinet color: the wide plank oak floors with a deep polished stain; a very sophisticated veined 12 x 24 ceramic tile kitchen floor; the oil rubbed bronze lever hardware by Emtek.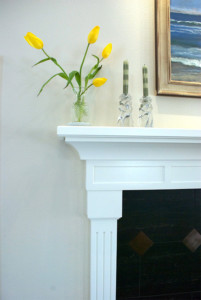 The hearth is the centerpiece of this home
The capstone of the project, that I believe brings it all together, is the fireplace and mantle, which sits prominently against the 14-foot gable wall at the north side of the living room. You see it immediately upon entering and from the kitchen/dining area.
I designed a Craftsman-influenced mantle with pilasters and panels grounded by deep stone like tiles. It sits on a 2-inch slab of New Mexico Buff local stone. Diagonally set metallic 4×4 insets speak "character" with just a slice of Colorado Carpenter Farmhouse to balance the formality.
Builder: John Fruth of Fruth Construction