Accessory Dwelling Unit
Lafayette, CO
LOWER LEVEL HIGHLIGHTS:
Art Studio
Wide 1-Car Garage
Utility Room
Stackable Washer/Dryer
Plenty of Parking
2nd FLOOR HIGHLIGHTS:
Apartment 400 sq ft
Open Living Area
Built-ins
Compact Kitchen
Full-sized Appliances
Custom Glass Shower Stall
Roomy Bedroom
Lots of Windows!
FINISH DETAILS:
Bamboo Flooring
Clear Pine Doors & Trim
LED Recessed Lighting
Mitsubishi Split System
The design for this Accessory Dwelling Unit (ADU) started way before the permit application and review process began.
In my work, I visualize from the INSIDE out, letting the dimensions of the spaces grow organically from need and purpose into elegance. My process is a back-and-forth between what is in my mind's eye and the requirements that unfold.
The ADU apartment was intended to be a comfortable, relatively open space for no more than two people. Keeping the rooms in scale supports the purpose and efficiency of the outcome; after all, people live on small boats of less than 200 sq. ft., and also in Tiny Houses of 100 sq. ft. In this case, the permit specifications determined a max footprint of 400 sq. ft. This meant that every inch was important. The pull-push of limit and potential provides creative opportunity.
"Tea for Two"
Entering the apartment from the alley, one goes round the back and up the stairs. On the second floor entry is an 8' x 6' deck. This platform is built of Horizon "Ipe" decking with a bronze finish aluminum rail system running up the stairs. This entry faces the main house across the yard. It offers room for two chairs and a small table for an al fresco moment, hence, my nickname of "Tea for Two."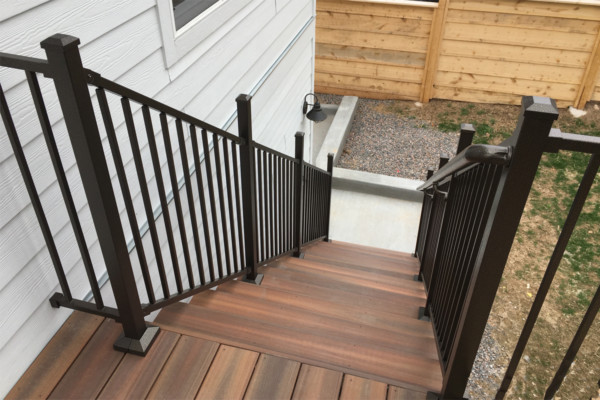 The apartment provides a complete kitchen with quality appliances including a 24" wide LG refrigerator, GE range and microwave, and a stainless steel sink and faucet by Krauss. There is adequate work area for food preparation, drawers and cabinet space, and open shelving. Initially I drew a moveable island-type unit, just to explore the area's potential. A tenant could also place a small café table and one or two chairs under the south window.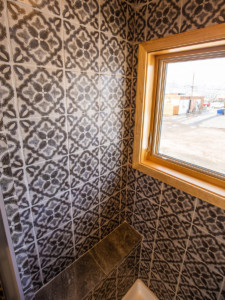 The Bathroom has a 54" x 30" custom glass shower stall with ceramic tiles and a seat. A window enhances the feeling of openness. The hardware is bronze. A 36" wide vanity with drawers and a medicine cabinet above the sink complete the layout.
The Bedroom feels spacious with the double bed of the fortunate first occupant, although it is large enough to contain a queen-sized bed. There are large windows on two sides and a ceiling fan. There is a custom, built-in closet storage unit for clothing that does double duty* (read on for more explanation).
Where this apartment excels is the generous open Living Room area for a sofa, chairs, chests, bookshelves and a small dining table.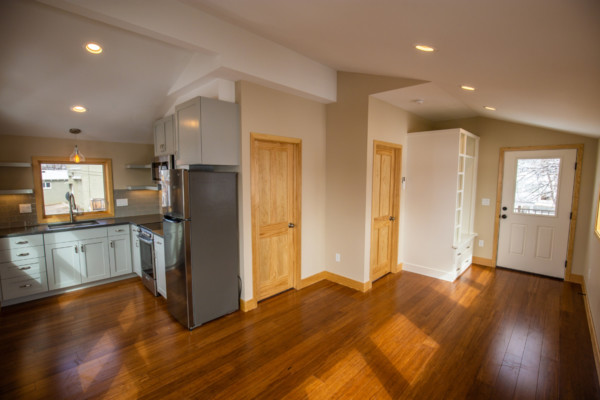 Bamboo flooring adds a warm luster throughout the apartment. LED recessed lighting adorns the walls, and the clear pine doors and trim glow. The walls are painted in Linen, a soft Benjamin Moore color that I favor.
One of my design principles emphasizes abundant natural light and fresh air. Every window opens with ease. Standing in the center of the space you can turn around and see in every direction above the surrounding neighborhood to the world beyond!
The Wish List
Early in the Design Process the client stated that she wanted, "a place to paint" (photo below). With a sink in the corner for easy clean-ups, the studio is perfect! I sweated over the proportions and window height so that it is bright, airy, and yet private. We'll leave the concrete floor raw or just sealed – to catch the paint droppings that fall from an artist's brush. Que bueno!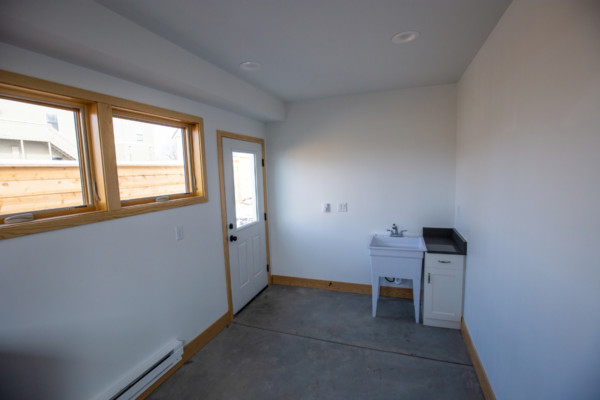 Lower Level
Also on the Wish List was a single bay garage, and an utility/laundry room. We designed the garage with an 8' tall door to accommodate the extra height of a VW camper van. How cool is that? Holistic Design supports the future as well as the present. Painting and Traveling. Happy and Healthy. The Healing Home!
Storage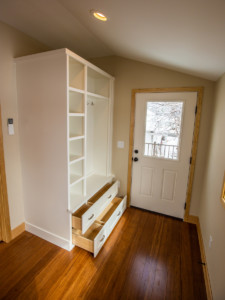 The builder created a custom, two-sided storage unit* between the Bedroom and entry that provides shelves, hanging space and drawers. Under bed containers and a small dresser will satisfy the need for storage in the bedroom. The north side of the garage has plenty of room for a closet and gardening implements. Even the Art Studio has space for overflow. As I said, use every square foot for a purpose.
Mechanicals
The apartment is heated and cooled by a Mitsubishi Split System hung high on the south wall. It provides quiet, efficient, instant circulation of warm and cool air, as needed. Because the place is so tight, I believe it will be relatively inexpensive to heat and air condition. The ceiling rafters are filled with closed cell foam to R49 and the walls to R21 with standard fiberglass batts. The floor is R30, also fiberglass.
The required Blower Door Test required by the city of Lafayette (conducted by Scott Home Inspection) gave the structure very favorable stats, one of the highest ratings ever recorded. Small is Beautiful!
A gas-fired Rinnai unit supplies on-demand for a continuous flow of domestic hot water. All of the plumbing fixtures are "water sense" rated to limit waste. The utility room is plumbed for a stackable washer/dryer.
The windows are Weathershield insulated, Low E units that exceed the 2016 National Code Fenestration mandate. Vinyl clad exterior, pine interior.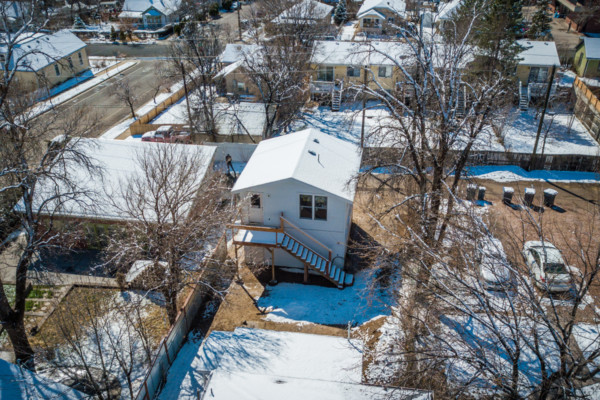 The Community
I design for both longevity and beauty. The back alleys of Lafayette are a dynamic and colorful part of the city's character. This small building fits in perfectly with Lafayette's Old Town traditions while giving a nod to contemporary design trends. The exterior lapboards and Vintage metal cladding on two walls blend seamlessly together. I pushed the structure an additional 2 feet deeper from the zoning setback of the alley to create a feeling of extra space. I believe this helped the architecture to "breathe" and the alley energy to flow.
It was a pleasure to work with the homeowner on this project. She was decisive and focused and willing to go the distance. Her neighbors were supportive of the project as well and this was critical during the review process. We extend all good wishes for the future!
As Designers, we have a responsibility to create beauty, integrity, and permanence with our work. Happy and Healthy, at Home.
The photos tell the story!  More photos below. 
---
The ADU Permit Process
In order to maximize its full potential I paid attention to every detail in this design. One of my construction mantras has always been "create a big space inside a small space".
This building has a footprint of only 20" by 21" and it maximized the 30% lot area coverage mandated by Lafayette city zoning regulations. It contains a full apartment upstairs with a kitchen, bath, open living area, and bedroom. On the lower level are a one-bay garage, an artist's studio, and a utility space with a compact laundry area; and, a sitting porch out back.
Each ADU proposal should be evaluated on it's own merit. Zoning laws are complicated, and in many cases open to interpretation by the Building Department officials.
The best way to approach your project is to take a copy of your plot plan to the Building Department for review. It is even better if you have some idea of what you want to build. The limits of what you can do are based on various factors, like total lot area coverage, setbacks, building height, building size, historic preservation status (which could require neighbor's approval), energy efficiency, and all applicable building codes.
The Healing Home is committed to designing efficient, cost effective buildings. Small is Beautiful!
Are you interested in building an Accessory Dwelling on your property? I'd love to assist you. I am available for consultation at 303.916.0009.